Sun Rock
Located a short drive to the north of Málaga, El Chorro provides some of the most famous winter rock climbing in Europe. The area has a wealth of crags and literally hundreds of bolted/equiped sport climbing routes to suit all tastes and abilities.
We will climb single and multi-pitch routes using pre-placed bolts and natural protection on the fine limestone rock. The warm, dry weather and abundance of low cost flights to Málaga makes the winter months a great time to migrate south.
We fly to Málaga on the Mediterranean coast and then drive north to El Chorro. Our accommodation is comfortable and conveniently located close to the climbing. We will explore a variety of crags in the region as we savour beginner and intermediate level climbs. Our days are generally pretty relaxed and provide plenty of time for instruction, climbing and exploring.
This year, in addition to our regular December week, we are also offering weekend getaways.
Scheduled Holidays
El Chorro, Spain

Dates: 3rd to 10th Dec 2011

Included

Go Higher holiday fee

£580

Includes: 6 days instruction and guiding;
7 nights self catered accommodation in Go Higher cottage; airport transfers; transport from Málaga and locally.

Not included, but arranged by us:

Kitty for food + dinners

~£50/Wk

We usually make up a kitty for packed lunches, breakfasts, and dinners. There are a couple of local restaurants serving Spanish food and vino. Our accommodation has cooking facilities in which breakfast and meals may be prepared - something the group generally shares in.

Not included and arranged by you:

Return flight

~£varies

You need to book your own flight from the UK regional airport of your choice to Málaga, Spain.

Travel Insurance

~£varies
Please contact us for other sun-rock dates and venues
Like to know more?
Click here to download a PDF brochure. You can also view our complete Tariff and Calendar of Events, which includes details of all our current offerings.
Find out more about climbing and scrambling (including fitness requirements and what you need to provide).
If you'd like to know more about this holiday and/or Go Higher and our our services in general, please feel free to contact us at High Dyon Side. Or call Graham on 07717 539412.
Make a Booking
Would you like to join us on this holiday? Then fill in our booking form. Here you will also find our booking terms and conditions.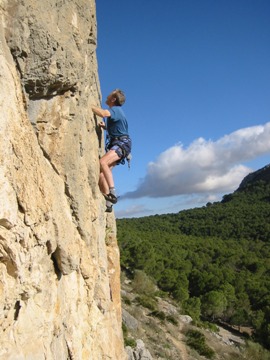 Jim climbing above El Chorro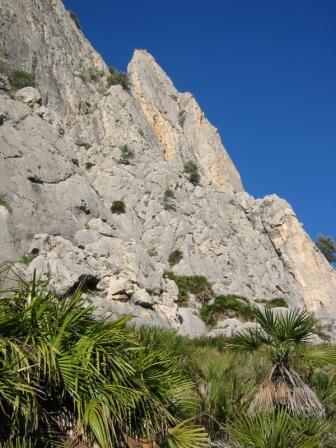 Ego climbing. Learning to lead in the sun.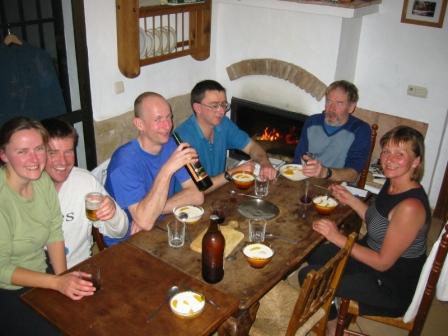 A log fire, good spirits and fine company - base camp, El Chorro.